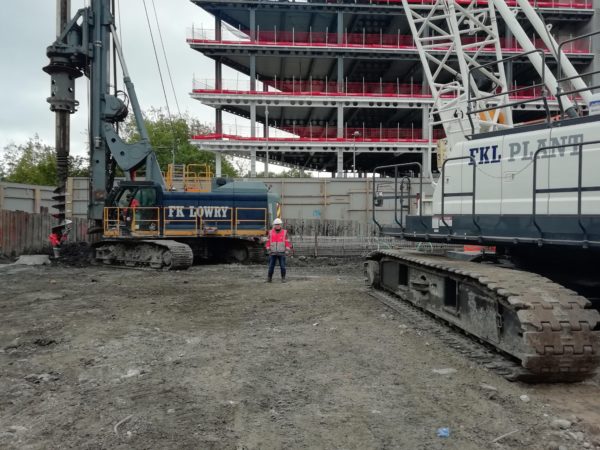 FKL Plant have mobilised their new Kobelco CKE900G Handling Crane to the Wilton Park Project in Dublin. FK Lowry are currently delivering a hard/firm Secant Bored Pile Wall to form a 2-storey basement for their Client, Sisk. FK Lowry are utilising their Soilmec SR-95 and SR-75 to form Rotary Bored Piles into the underlying Limestone Bedrock.
We're delighted to be able to place the new Handling Crane on this high profile scheme in the heart of Dublin's Commercial District. The Wilton Park Scheme is a flagship project for our client Sisk and these projects require Plant & Equipment with the highest standards in terms of Health & Safety, Technology and Environmental Emissions. This particular Kobelco 90t Handling Crane comes with the very latest Tier V Engine which adheres to the highest possible European Environmental Standards

Pat McKay, FKL Plant General Manager
Back in 2018/19, FK Lowry successfully delivered the Piling element to the adjacent One Wilton Park Project, securing the 2019 Supply Chain Award from their Client, Sisk. The Award of the Two-Three Wilton Park Scheme is special recognition of the team's professional delivery of the previous phase.