Following its recent successful commissioning, FK Lowry were delighted to receive their new Soilmec SR-75 Blue Tech Piling Rig. The new Piling Rig will go straight into Operation on one of their Scottish Projects. Pictured with Soilmec's Director , Mark Nelson is FK Lowry's Site Team, John Gilpin, Odhran McFall, Paul Waryck and FKL Plant's General Plant Manager, Pat McKay.
We're delighted to continue our relationship with Soilmec and really pleased to take charge of our new SR-75. The new and updated version of the SR-75 will provide us with greater depth capability, greater efficiencies and add to our commitment of reducing our emissions and lowering our carbon usage

Sam Pyper, Piling Director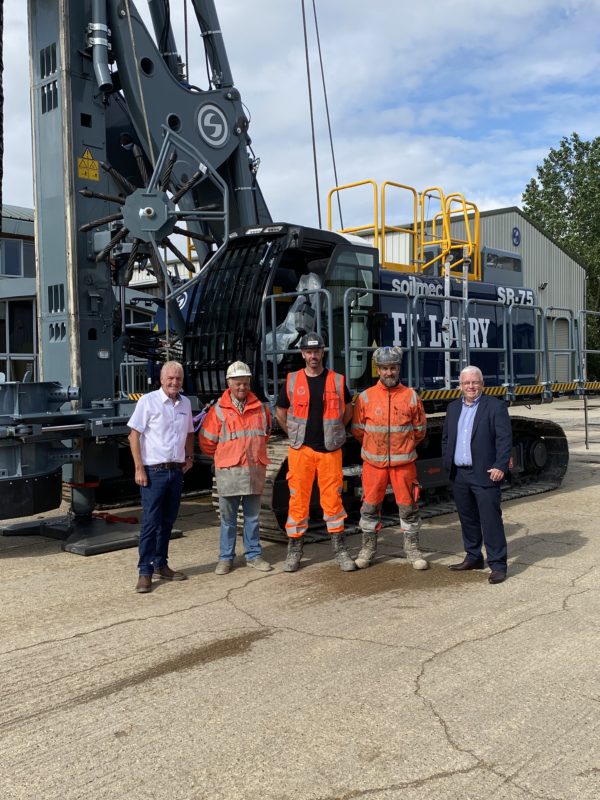 The new and updated SR-75 Blue Tech comes with a Volvo D13 with 345 kW (462 hp), air-cooled, turbocharged engine for greater efficiency and additional power. Increase of 13% more Torque to reach 281 kNm (207255 lb*ft). The new efficiencies also saves fuel and time during the work cycle - up to 50% on the winch cycle with approx. 10.4 litres (2.75 gal) of fuel saved per hour.