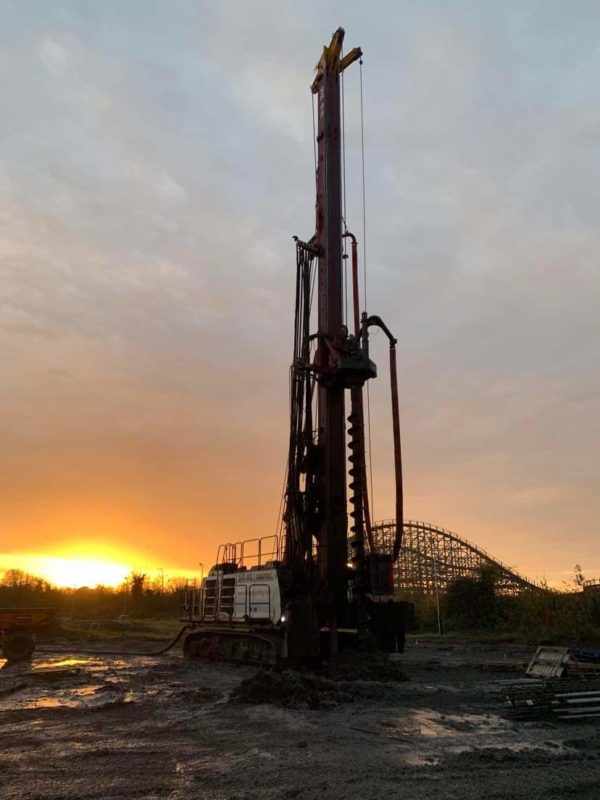 Construction has commenced on two new steel rollercoasters at Emerald Park (formally Tayto Park) in Ashbourne, Co Meath, with FK Lowry successfully delivering the Design and Installation of Bearing Piles for this new and exciting development.
The new rides, which have a budget of €16 million, will bring the total number of rollercoasters at Emerald Park to five. The other three are called Cú Chulainn, Flight School and Dino Dash.
FK Lowry were contracted to design and install 208 No. 600mm & 750mm Dia. CFA Piles and 50 No. 600mm Dia. Rotary Bored Piles for our new Client. Our Design was verified through 2 No. Static Load Tests and 2 No. Tension Load Tests. With the use of our dual purpose Soilmec SR-75 & SR-95 Piling Rigs, we were able to seamlessly transition between piling techniques without the need for mobilising additional piling rigs.
FK Lowry Staff can't wait to try this new ride out!
We engaged with FK Lowry to undertake the design and installation of the Piling to the Emerald Park Rollercoaster Project 2024. Due to the variability in the ground, FK Lowry utilised both CFA Piling & Rotary Bored Piling to install piles for various depths of rock sockets. We were very satisfied with FK Lowry's approach to the project and the delivery of the scheme in a timely manner. I look forward to using FK Lowry on future projects

David Everard – Capital Projects Manager, Emerald Park