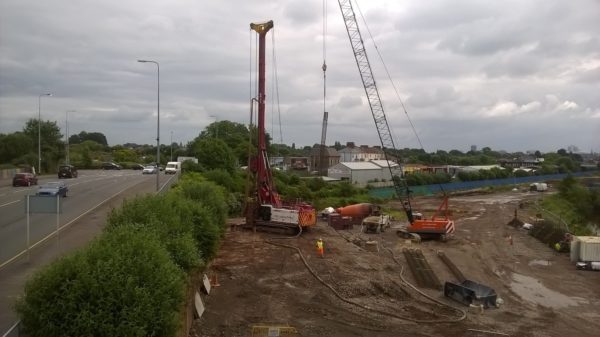 FK Lowry Piling has recently completed the design and installation of 255 No. Continuous Flight Auger Piles (CFA) for a new Viaduct for a regeneration scheme in the Welsh Capital. The £100m scheme will see a derelict industrial site in west Cardiff transformed into an 800-home 'urban village.' The project will provide much-needed homes for sale and rent to a wide range of working households on a 53-acre site in Ely once occupied by the Arjo Wiggins paper mill. Known as "The Mill", FK Lowry Piling were sub-contracted to the locally based Alun Griffiths Contractors for the construction of a new Viaduct on the project. The overall scheme will include both affordable and open-market housing as well as new community facilities such as a village centre, open spaces, riverside footpaths and cycle-ways.
FK Lowry deployed one of their Soilmec SR-75 Piling Rigs to install 450mm, 600mm & 750mm diameter CFA Piles to depths up to 14m below existing ground levels. The underlying soils consisted of Made Ground/Fill, underlain by stiff Clays, medium dense Sands before very dense Gravels were encountered at depth. Piles were then required to penetrate into a conglomerate of Siltstone and Mudstone.
FK Lowry continues to broaden its portfolio of work in Wales. This started back in 2013 when FK Lowry successfully completed the £3M Piling Scheme at the Viridor EfW Plant in Cardiff Bay for Lagan Construction Group.
"The choice of Piling Rig here was key to the success of this project for our new Client, Alun Griffiths. The Scheme Designers, Arup, had specified a Toe Level into the underlying bedrock and we therefore deployed a high-torque SR-75 to ensure that we founded at these depths. We also had to ensure we had the correct tooling as the rock strengths and descriptions suggested we could encounter strong bands within the conglomerate. Thankfully, the rig and tooling choice were correct and we successfully completed the scheme to time."

Martin Mc Kinstry, FK Lowry Piling's Contract Engineer