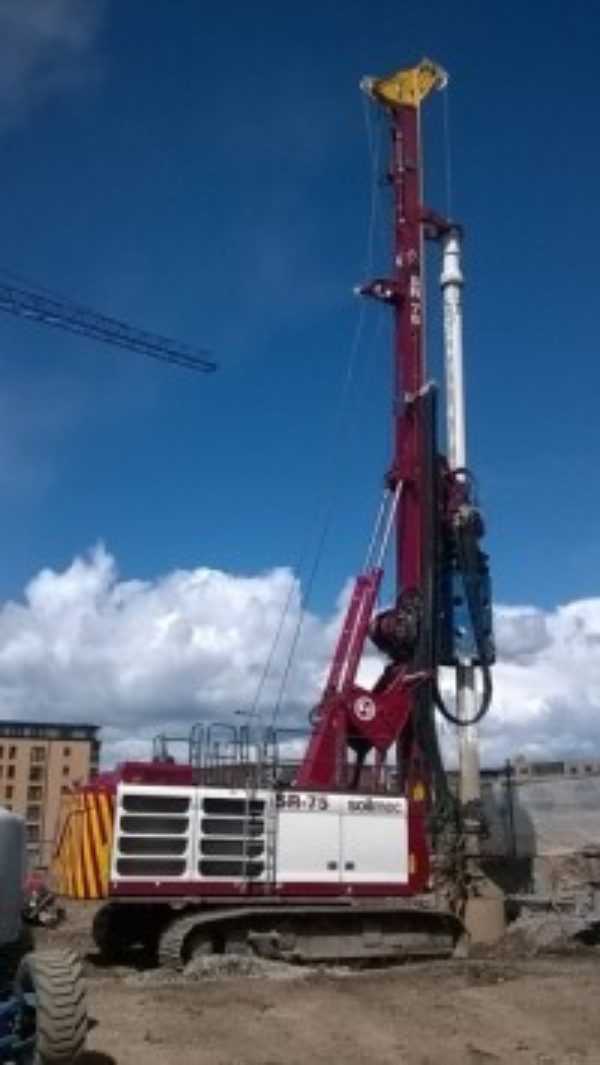 FK Lowry Piling have recently completed the design and installation of a 1,200mm Diameter Contiguous Bored Pile Wall for a £25 Million Schools Project at Fountainbridge, Edinburgh.
The new Boroughmuir High School is being part funded by the Scottish Government through their "Schools for the Future" programme which is managed by the Scottish Futures Trust.
The FK Lowry Piling Package required the installation of a Bored Pile Wall to retain the adjacent Viewforth Street so as to maximise the projects footprint. The ground conditions on the scheme were Made Ground/Fill material overlying loose to medium dense Sands & Gravels before strong to very strong Sandstone & Siltstone Bedrock was encountered at depth. For wall stability, a 3m Rock Socket was required to key into the underlying bedrock.
The Boroughmuir Project is yet another Scheme that FK Lowry Piling adds to its portfolio in the Education Sector. This follows the recent successful completion of Piling for the new Edinburgh University, Easter Bush Campus also in the City.
"Our remit here was to design and install a 1,200mm Diameter Contiguous Bored Pile Wall using Rotary Bored Piling for a retained height of up to 4.5m. With the potential for encountering significant obstructions in the Made Ground and the design requirement for a significant Rock Socket in competent Bedrock, we mobilised our brand new Soilmec SR-75 Piling Rig with 1,300mm Diameter Casing and 1,200mm Diameter Tooling. With a combination of Rock Augers and Core Barrels, we were able to penetrate through the Made Ground, overcoming the some reinforced concrete, masonry walls and boulders and also form the required Rock Socket depth."

Brian MacNamara, FK Lowry Construction Manager