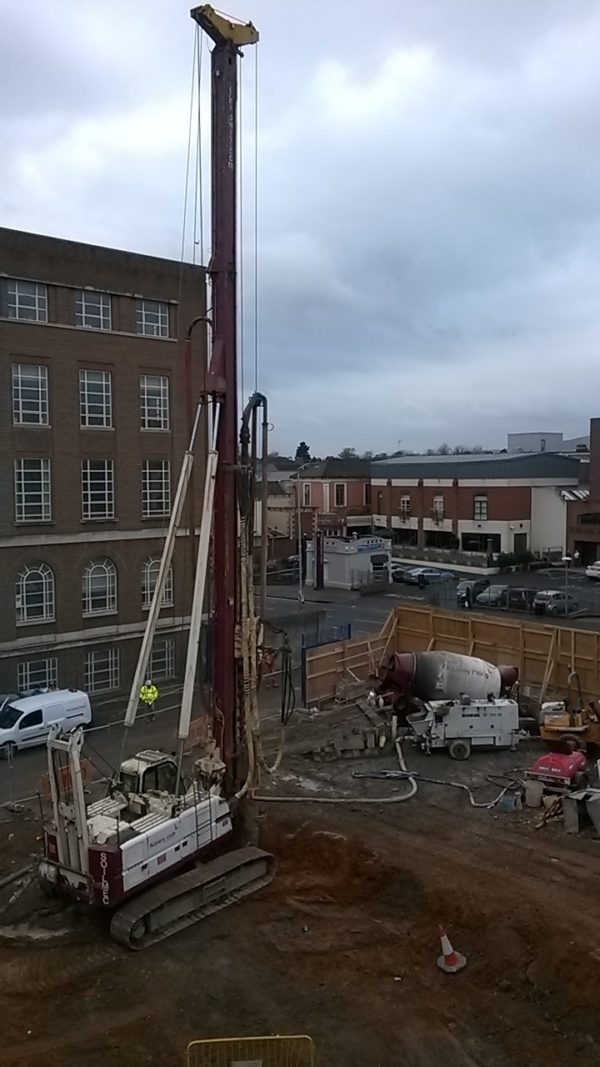 FK Lowry Piling has completed a Piling Sub-Contract to install 205No. 300mm Dia. CFA Piles for the new Bernard Crossland Building at Queen's University, Belfast.
The new four-storey 3,000m2 building, with a glazed front elevation will be built around the existing structure. It will offer a variety of large and small computer labs, project spaces, breakout rooms, a Student Hub spanning three floors, academic and clerical offices, and postgraduate spaces. In keeping with the University's commitment to sustainability, the building has been designed to minimize its impact on the environment and to achieve the target of Building Research Establishment Environmental Assessment Method (BREEAM) "Excellent" rating.
FK Lowry Piling were contracted to install 300mm Diamenter Piles to 18m, founding into the medium dense – dense Sands to carry working loads of up to 500kN.
"The Scheme is a high profile project in the University Area of the City. The Site was very restricted, being bound by the busy Malone Road to the West and Queen's University, Belfast to the East. Due to the close proximity of Laboratories, Lecture Theatres and Offices, noise and vibration were also major issues on the project. We therefore employed one of our smaller Piling rigs in the Fleet, the Soilmec CM-50 to mitigate these potential risks. This Piling project was yet another opportunity for us to demonstrate our capability of working Safely and efficiently in small, tight City Centre locations."

Seamus Keane, FK Lowry Contract Engineer